Maintenance
There was a maintenance this morning to perform the usual duties and deploy the following fixes.
Fixed a bug where any weapon could be used with the Ballistic Shield.

Fixed a bug where immediately leaving a Survival session rewarded players with too much Field Proficiency XP.

Fixed a bug where the same Named NPC could be killed endlessly.
Source
Yesterday we deployed a patch for the PC client which included the following fixes.
Fixed some instances with the Xbox controller not working on PC

Addressed some rare cases with the Fullscreen mode not working

Some improvements to the audio positioning have been made

Improvements to high CPU usage cases on PC

Players losing control of their characters for a brief moment

DirectX12 is now supported
Source
Hot Topics
Free Weekend
You can play The Division on PC for free this weekend

It will start at 7pm CET today till Sunday at 10pm CET

You can play no DLC content, just the core game with Update 1.5 patch

It will be available on Steam and Uplay and you will keep your progress when you buy the game after this event.
Survival on PS4 / PS4 Pro Support
Survival will be released on Tuesday, December 20th

There will be a maintenance just for PS4 to deploy the patch

The CE-34878-0 Error will be fixed with that update

PS4 Pro support will also be available

There will also be a big stream at that day
Ban Wave
One of the regular cheating ban waves that took place yesterday mistakenly included some player profiles that were found to be innocent. They have now reverted these bans and removed any mistakenly logged history of cheating from the accounts. When you are still banned and consider yourself innocent, you can contact Ubi-Support to sort that out.
Known Issues
Level 34 Mods Issues
General Known Issues
You can check them out in the official forum here:
Link
Community Highlights
When you have created something cool that should be showcased on the State of the Game stream, you can send it to this address: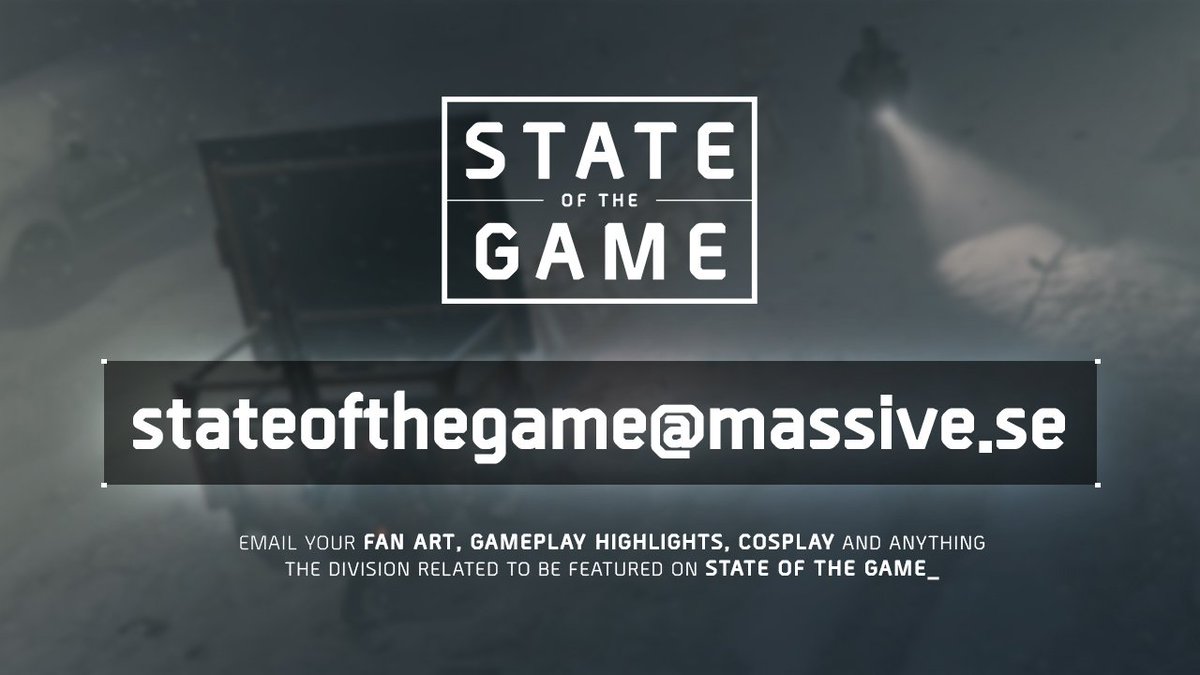 Twitter
But use it with respect.
ETF (Elite Task Force) 2 / Update 1.6 Teaser
There were many applications for the second ETF (Elite Task Force) and the selected players will be contacted in the next few days. The selected players will not be published, but they can do so themselves.
Goals of Update 1.6
Update 1.6 is focused on Dark Zone/PVP and has the same goal as 1.4/1.5 had for PVE, it should bring back the fun to PVP. As Terry and Evan stated, PVP should become more competitive, but also rewarding even when you lose and it should "close" the gap between mediocre players and the elite players. This is all pretty vague at the moment, but they announced more updates will come soon.
DZ Leaderboards
One of the big changes of Update 1.6 is, that the Dark Zone will get Leaderboards. But as Terry and Evan specifically stated, (they read Reddit and the different forums) they know how players feel about PVP and that is why these leaderboards are designed in a way, that they should encourage positive behavior and not have the focus on rage inducing activities like rope cutting etc.
These are examples of things that can be tracked and are added to the player score:
Extracted items

Named NPC kills

Killing Rogues

Claimed Support Drops

Looting DZ Chests while in Manhunt
(this is not a final list)
So how will these leaderboards work and what are the goals?
There will be

Weekly / Monthly activities

that will be tracked

They have the goal to give your DZ experience a

different flavor/focus

each time

Some activities could get an

extra bonus

on some days

All tracked activities will give you points and when you have a

defined amount of points, you get a reward

. But you can also continue farming and reach the next

Reward Tier

for better rewards.

You can track your progression on the monitors in the DZ checkpoints

You can claim your rewards on a weekly / monthly basis and those will be sent to the rewards claim vendor in your Base of Operations.


Leaderboards will reset from time to time

, so there will not be a "best of all time" list and it will not track the progression that happened before the update
Rewards
As stated, you get weekly / monthly rewards and depending on your score on the leaderboard / your Reward Tier, you get better rewards. But what exactly are these rewards?
There will be new caches

The rewards will scale depending on your Reward Tier

The contents of these caches are currently unknown.
The important thing about these leaderboards is, that they should not focus on activities like x amount of players killed or other activities that make the Dark Zone a toxic place. They should expand on the activities players normally do in the Dark Zone and give you a specific focus when you enter through the checkpoints. That should keep the gameplay fresh, reward you for activities you are doing anyway and should not have the focus on activities that encourage you to kill and harass as many players as possible.
At least that is the first impression how this system is described and based on the statements, that these leaderboards should encourage positive behaviors. We will see this more clearly when we get more information about this system.
Since all this is currently under development and the ETF event is still pending, this is all subject to change and by far not a final list for Update 1.6.
Important Links
Video
Podcast
Article on the official Homepage